About Fresh Aire Duct Cleaning
Commercial & Residential Duct Cleaning Company in Los Angeles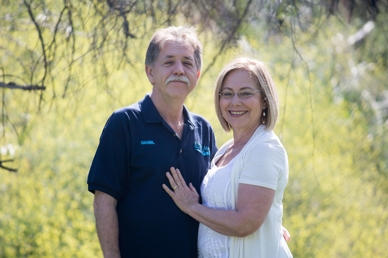 Fresh Aire Duct Cleaning is family owned and operated by Daniel and Diane Leriche. Since 1979, Daniel has been involved in the duct cleaning field. His experience in the field is broad, including HVAC duct systems, dryers, and various other ducts. His extensive expertise brings an uncompromised result of being among the best duct cleaning services available throughout the Greater Los Angeles area.
For 40 years, Daniel and Diane have worked together to form an award-winning business that has delivered service to tens of thousands of customers in the Southern California area. The crew and office staff are personally trained by the owners to deliver the finest service possible in a professional, friendly and efficient manner. All crew members have been trained/apprenticed through the Fresh Aire Certification Program& are Certified Duct Cleaning Technicians.
The Fresh Aire Difference
It is easy to see why many believe Fresh Aire Duct Cleaning provides some of the best commercial and residential duct cleaning Los Angeles has to offer. Contractors, Building Managers, Property Managers, Estate Managers and even Homeowners in the area refer their customers or neighbors and family members to us more than any other duct cleaning company.
Why work with our Los Angeles duct cleaning company?
40 years of industry experience
Highest quality services
Fully Licensed, bonded, and Insured for your protection
Friendly, professional, and informative staff and technicians
All crew members are Certified Duct Cleaning Technicians
All crew members are employees: drug tested, background checked
Free estimates available
We offer video camera inspections to ensure thoroughness and to save your time & money
A job well done, the first time, every time
We survey after every job to verify customer satisfaction survey
Our Company Goal
Don't let your home or office get you sick! At Fresh Aire Duct Cleaning, our primary purpose is to help achieve a more optimum health and quality of life for others by delivering indoor air cleaning services to the highest industry standards with a sense of friendliness and company spirit. We strive to provide the best duct cleaning to the Greater Los Angeles area including the San Fernando and Santa Clarita Valley, the Westside, and Beach Cities.
For more information about our LA duct cleaning services, whether commercial or residential, give us a call at (818) 275-5556 to contact us online.